As a leader in our field, we believe Eurocell has a responsibility to comply not only with all relevant legislation that governs our corporate surroundings, but to go beyond this and establish a moral and ethical framework within which to run our business. The health, safety, development and wellbeing of all our people are the building blocks at the heart of the environment we created to deliver on these obligations. In addition, we have recently introduced a customer-focused quality policy statement, which captures the way we aspire to work at Eurocell.
PROVIDING A SAFE ENVIRONMENTplus
The safety and well-being of our employees and contractors is our first operational priority. Our safety KPIs continue to be strong and we recorded no major injuries in 2016 under the Reporting of Injuries, Diseases and Dangerous Occurrences Regulations 2013 (RIDDOR).
In our production facilities, monthly safety audits are led by the Site Safety Coordinator and members of the safety team. These ensure we are compliant with our internal safety systems and standards, which form part of our OHSAS 18001 accreditation. Each area of the business has specific task-based risk assessments and machine risk assessments, which are reviewed periodically and updated whenever necessary. In addition, the safety team leads monthly cross-functional safety meetings, where learnings and best practice are shared.
In the branches, risk assessments, safe systems of work and control of substances hazardous for health (COSHH) assessments are all reviewed annually. On the job training is provided at least annually and health and safety training is provided at regional meetings when requested.
All branches participate in a 'Plan, Do, Audit, Review' procedure and are audited for health and safety compliance purposes, both by internal and external bodies.
|   | 2016 | 2015 |
| --- | --- | --- |
| Injury frequency rate (1) | 5.15 | 4.81 |
| Lost time injury frequency rate (2) | 1.05 | 1.27 |
| Severity rate (3) | 13.3 | 13.4 |
(1) Injuries per 100,000 hours worked.
(2) Lost time accidents per 100,000 hours worked.
(3) Days lost due to accidents at work per 100,000 hours worked.
Our safety statistics continue to benchmark well with industry standards. We did see an increase in the injury frequency rate in 2016, driven partly by a higher use of agency employees. We are working to bring standards within our agency workforce up to those of our permanent employees. The lost time injury frequency rate has improved in 2016 and the severity rate was flat. We have also improved our data collection and near-miss reporting.
DEVELOPMENT OF OUR PEOPLEplus
Continued investment in learning and development for our staff is a cornerstone of our strategy for the recruitment and retention of talented people.
We provide a number of training programmes and relevant courses for our staff, using a combination of internal and external service providers. In addition, we provide financial and study leave support for our trainees who are progressing through the process of obtaining a professional qualification.
We also operate a management development programme. The programme has three levels, reflecting the relative seniority of participants (with level three being the course for our most senior managers). During 2016, participants in levels one and two completed the programme and we envisage a second wave beginning in 2017. The first participants in level three will also complete their programme in 2017.
During the year we developed our e-learning offering for all employees. This enables us to offer wide-reaching training more easily to our geographically disparate workforce.
In 2016, the average number of training hours per head was 12.6.
NOMINATED CHARITIESplus
This year, our employees nominated two charities which have become Eurocell's charities of choice. These are the East Midlands Air Ambulance Service (a local charity) and Starlight (a national charity). We will continue to support these charities with our fundraising efforts, with the Company matching pound for pound the donations raised by our teams.
EQUALITY AND DIVERSITYplus
Equality and diversity are fundamental values supported by Eurocell. We take our responsibilities under our equal opportunities policy seriously and we give full and fair consideration to applications for employment by disabled people. In the event of a colleague becoming disabled, every effort is made to ensure that their employment with us continues and that appropriate training is arranged. We respect individuals and their rights in the workplace and, with this in mind, specific policies are in place to prevent or, where issues are raised, address harassment and bullying and to ensure equal opportunities. Our whistleblowing policy continues to operate to give visibility to issues that might not have been resolved through normal business channels.
Our colleagues are from wide and diverse backgrounds, nationalities and ethnic and religious groups. With continued expansion, diversity amongst our colleagues will increase. We respect cultural differences, and learn about and embrace these differences wherever we operate.
We recognise the benefits of encouraging diversity across the business and believe that this will contribute to our continued success. All appointments are made based on merit and are measured against specific objective criteria including the skills and experience needed for the position. We are committed to increasing the participation of women at the Board, Executive Committee and senior management level, as they are currently under represented as the table below illustrates.
 
Male no.
%
Female no.
%
Total
Directors
6
100%
0
0%
6
Executive Committee (Steering Group)
5
83

%

1
17

%

6
Senior managers
11
85

%

2
15

%

13
Other employees
1,113
88

%

151
12

%

1,264
 
1,135
88%
154
12%
1,289
NEW APPRENTICESHIP PROGRAMMEplus
During the year we implemented an apprenticeship scheme, under which we have so far introduced 10 staff into the Group. The programme enables participants to quickly learn relevant skills and provides a good head-start to building a career. All of the apprentices have made a really positive contribution to the business. We are committed to growing the scheme and anticipate another intake in 2017.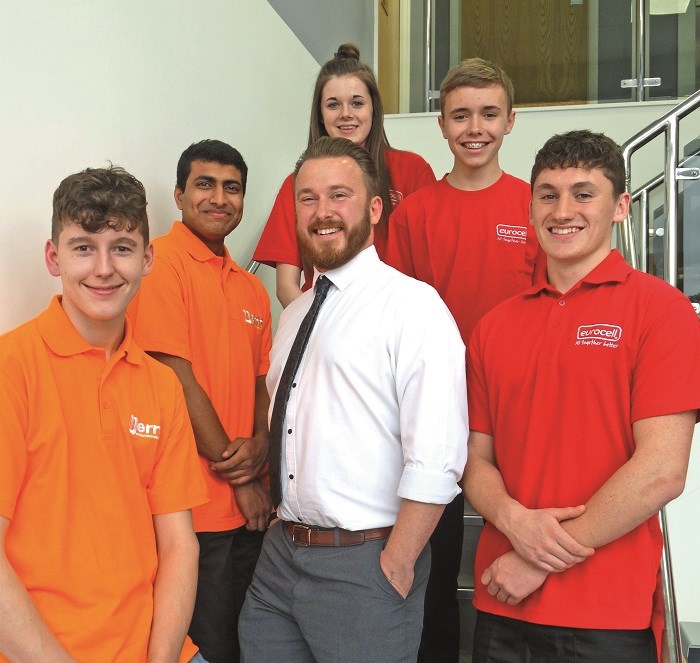 QUALITY POLICY STATEMENTplus
We recently introduced the following customer-focused quality policy statement, which captures the way we aspire to work at Eurocell.
Customers
To be trusted by our customers in everything we do. Working in partnership with them to ensure that they are able to differentiate their service and product offerings from their competitors. Easy to do business with and always responsive to their needs, in a consistent, timely, courteous and flexible manner.
Quality
Adherence to industry leading specifications and ISO based standards for Quality & Environmental Management and British Standards for Health and Safety. Ensuring that suppliers understand and work with us to meet our aspirations.
Constant improvement
Uniform standards across our business benchmarked against industry best practice, constantly reviewing and improving processes. Benchmarked leading industry best practice transferred across businesses and customers with a view to reducing waste and improving consistency. Always tracking and measuring through business and departmental KPI's reflecting the business objectives.
Everyone's responsibility
All departments responsible for constantly reviewing, measuring, checking and improving the quality of their work and ensuring that the necessary training, facilities and tools are available to get the job done, right first time through a culture of continuous improvement. All departments working together and supporting each other with no barriers and no silos.
CARBON FOOTPRINTplus
We have now calculated GHG emissions for 2015, which were 17,356 tonnes of CO2. The Group is in the process of calculating GHG emissions for 2016. We will also put in place new systems to facilitate more timely reporting of this data in the future.
line