We have made good progress with our strategic priorities and other self-help initiatives and delivered good financial results in the process.
GROUP FINANCIAL REVIEW
Group financial performanceplus
Group
2016
£000
2015
£000
Revenue
204,816
175,947
Gross Profit
106,565
91,002
Gross Margin %
52.0%
51.7%
Overheads
(75,236)
(61,271)
Adjusted EBITDA
31,329
29,731
Depreciation and amortisation
(6,377)
(5,437)
Adjusted Operating Profit
24,952
24,294
Finance Costs
(677)
(1,275)
Adjusted Profit Before Tax
24,275
23,019
Tax
(4,299)
(4,454)
Adjusted Profit After Tax
19,976
18,565
Adjusted Basic EPS (pence per share)
20.0
18.6
Reported Profit Before Tax
23,820
19,696
Reported Basic EPS (pence per share)
19.6
15.5
REVENUEplus
Revenue for the year was slightly better than expected at £204.8 million (2015: £175.9 million), which represents growth of 16%, or 11% excluding acquisitions.
As described in the Divisional Reviews, this has been driven by strong like for like growth in the Building Plastics branch network (£10.4 million, or 10% for the division) and the positive impact from branches opened in 2015/16 (£5.0 million, or 5% for the division). We have also delivered good organic growth in Profiles (£3.2 million, or 4% for the division). Together, the acquisitions of S&S Plastics and Vista Panels added £10.3 million to sales in 2016.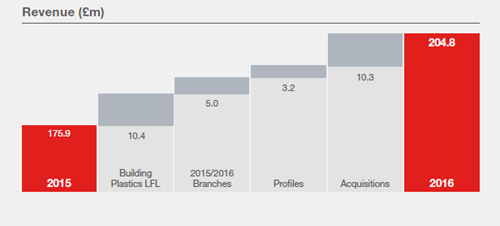 GROSS MARGINplus
Gross Margin for 2016 was slightly improved at 52.0% (2015: 51.7%).
We did benefit from lower average resin prices in the first half, but prices began to rise in April and increased further following the EU Referendum, principally as a result of the depreciation in sterling. However, we were able to mitigate this pressure through a combination of selling price increases implemented in the second half, enhanced procurement measures, production efficiencies and by increasing the use of recycled materials in our manufacturing processes.
By way of example, efficiencies achieved in manufacturing helped improve overall equipment effectiveness by 6% and reduce waste levels by 1%. The use of recycled materials in our primary extrusion manufacturing processes increased to 14% compared to 9% in 2015.
DISTRIBUTION COSTS AND ADMINISTRATIVE EXPENSES (OVERHEADS)plus
Overheads for the year were £75.2 million (2015: £61.3 million). The year-on-year increase includes £1.4 million following the reassessment of provisions in 2015, £1.9 million as a result of new branches opened in 2015/16 and £5.2 million from the two acquisitions. The balance of £5.4 million relates to an increase of 9% in the underlying organic business, where sales growth was good.
The increase in underlying overheads is a little higher than we anticipated at the beginning of the year. As described in the Chief Executive's Review, we have not realised savings of approximately £1.3 million per annum anticipated when we outsourced our logistics operation to DHL towards the end of 2014. In addition, as described in the Divisional Reviews, underlying overheads include higher than expected expenditure on a branch incentive scheme, which has now been restructured to better align with Group profit targets, and investment in the Profiles Business Development team.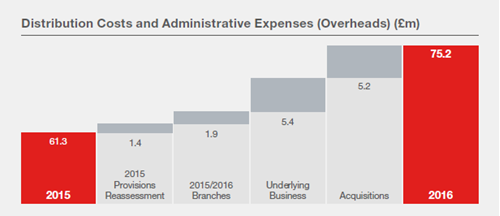 DEPRECIATION AND AMORTISATIONplus
Depreciation and amortisation for 2016 was £6.4 million (2015: £5.4 million), with the year-on-year increase a function of recent capital investment.
FINANCE COSTSplus
Finance costs for the year were £0.7 million (2015: £1.3 million). The Group has benefited from significantly reduced finance costs following a restructuring of our financing arrangements at the time of the IPO in March 2015.
ADJUSTED PROFIT MEASURESplus
Adjusted EBITDA, adjusted operating profit and adjusted profit before tax all exclude non-recurring costs (see below). Adjusted profit after tax and adjusted earnings per share exclude non-recurring costs and the related tax effect.
NON-RECURRING COSTSplus
We identified non-recurring costs of £455,000 in 2016 (2015: £3,323,000). Non-recurring costs for 2016 comprise duplicated costs relating to the handover period during which the Company employed two Chief Executive Officers, as well as professional fees related to the acquisition of Vista Panels. All non-recurring costs for 2016 were incurred in the first half. Non-recurring costs for 2015 comprised professional fees incurred in connection with the Company's IPO in March 2015.
TAXplus
The effective tax rate on adjusted profit before tax for 2016 was 17.7% (2015: 19.3%), with both years lower than the mainstream corporation tax rate, primarily due to the beneficial impact on deferred tax of future reductions in the corporation tax rate now substantively enacted as well as adjustments to prior year taxes.
The effective tax rate on reported profit before tax was also 17.7% (2015: 21.4%). The higher underlying rate for 2015 reflects costs incurred in connection with the IPO disallowed for tax purposes.
EARNINGS PER SHAREplus
Taking into account all of the factors described previously, adjusted basic earnings per share for 2016 was 20.0 pence per share (2015: 18.6 pence per share). Reported basic earnings per share for 2016 was 19.6 pence per share (2015: 15.5 pence per share).
 
2016
pence
2015
pence
Basic earnings per share
19.6
15.5
Adjusted basic earnings per share
20.0
18.6
Diluted earnings per share
19.6
15.5
Adjusted diluted earnings per share
19.9
18.6
ACQUISITIONSplus
As previously described, we acquired Vista Panels in March 2016 for consideration (net of cash acquired) of £6.3 million (see also Cash Flow opposite). Whilst Vista has had a strong second half of the year, its impact on group earnings was not material in 2016.
DIVIDENDSplus
We paid an interim dividend of 2.8 pence per share in October 2016. The Board proposes a final dividend of 5.7 pence per share, resulting in total dividends for the year of 8.5 pence (2015: 7.9 pence). This represents growth of 8% and is slightly better than the policy set out at our IPO, to target a dividend of approximately 40% of adjusted earnings, demonstrating the Board's confidence in the future of our business.
CAPITAL EXPENDITUREplus
The Group is continuing to invest in its future with capital expenditure for the year of £7.2million (2015: £6.4 million).
As described earlier, capital expenditure includes investment to increase our recycling capacity (£1.1 million) and in new branches opened in 2016 (£0.8 million). Investment of £3.9 million in operations includes a new foiling machine (£0.7 million, which reduces the lead times for coloured products), new tooling costs (£0.9 million) and general maintenance capex. Other capital expenditure of £1.4 million includes the branch refurbishments and relocations, along with various IT related costs.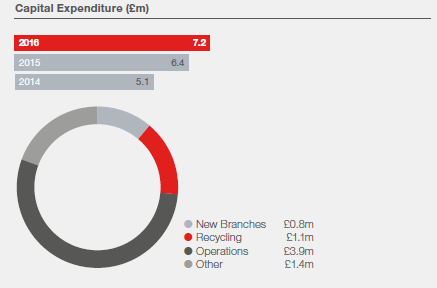 CASH FLOWplus
Net cash generated from operating activities was strong at £28.4 million, compared to £19.4 million in 2015.
This includes a net inflow from working capital for 2016 of £0.8 million comprised of a decrease in stock (£1.6 million), an increase in trade and other receivables (£0.6 million) and a decrease in trade and other payables (£0.2 million). This compares to a net outflow from working capital of £0.7 million in 2015. It also includes tax paid of £3.5 million (2015: £5.7 million).
Financing costs paid of £1.3 million include £0.5 million related to the acquisition of Vista, where the Group agreed to settle on completion £485,000 owed by Vista to its former ultimate parent undertaking, CorpAcq Limited.
Dividends paid represent the final dividend for 2015 of 5.2 pence per share (or £5.2 million) and the interim dividend for 2016 of 2.8 pence per share (or £2.8 million).
Taking all of these factors into account, net debt reduced by £5.6 million during the year to £20.3 million at 31 December 2016 (31 December 2015: £25.9 million).
In the first half we drew down £8 million as a loan under our existing facility in order to settle the acquisition costs of Vista. This loan was repaid out of cash in the second half.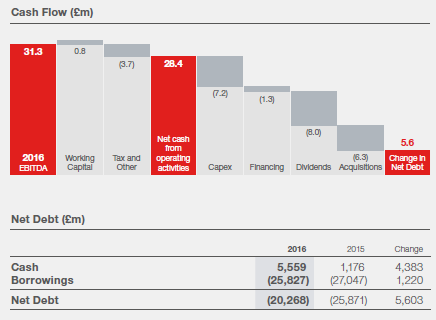 BANK FACILITIESplus
We have an unsecured, multi-currency, revolving credit facility of £45 million, provided by Barclays and Santander. The Group operates comfortably within the terms of the facility and related financial covenants. The facility matures in 2020.
CHIEF EXECUTIVE'S REVIEW - SUMMARY
STRATEGIC PRIORITIESplus
As described in the previous section, our overall objective is to deliver sustainable growth in shareholder value by increasing sales and profits at above market level growth rates. In order to do so, our five key strategic priorities are as follows:
Target growth in market share
Expand our branch network
Develop innovative new products
Increase the use of recycled materials
Explore potential bolt-on acquisition opportunities
We are making good progress with all of our strategic priorities. Expanding the branch network, increasing the use of recycled materials and exploring the potential of bolt-on acquisitions are all described in some detail in the pages immediately preceding the CEO Review in the 2016 Annual Report.
In terms of market share, our aim is to increase our share of the PVC profiles market to utilise the spare manufacturing capacity in our extrusion facilities. Recent production volumes have averaged a little over 40,000 tonnes per annum. We believe that production of at least 50,000 tonnes per annum can be achieved with little additional capital investment or incremental labour costs. As such, whilst new volume could be dilutive to gross margin, the net margin on such sales should be attractive.
To deliver the incremental volume, we intend to target new build, commercial and public sector work. In particular, demand for our brands in the new build market continues to increase. Our ability to supply excellent products through the fabricator network is supporting growth in this area. Our close working relationships with a number of the major house builders continues to develop, nurtured through good technical support plus market-specific innovation, leading to tight specifications and driving demand for our products. As such, we believe we are now the largest supplier of window profile to the new build market. In addition, expanding the branch network should create pull-through demand for both rigid and foam products.
With innovation, we are committed to maintaining market leadership by offering the very latest in product improvement, both through the development of existing products and the introduction of new ones. We are also working hard on processes to shorten the lead time to market for new products.
Recent examples of our product innovation include expansion of the Modus window suite and the introduction of a wider range of Roomline products (internal architraves and skirting boards). The Roomline range now includes more colours and designs, but the product retains its essential characteristics of being easy to fit and keep clean, with no need for painting.
OUTLOOKplus
To date we have experienced few ill effects from the EU Referendum, other than a short-lived dip in enquiry and activity levels last summer. As such, whilst uncertainty remains over the long-term impact of the decision to leave the EU, the majority of our fabricators enjoyed strong order books going into 2017 and trading in our expanding branch network continues to be robust.
Financially, we have made a positive start to the new year, with trading in line with expectations.
I am also delighted to welcome Security Hardware to the Group. I look forward to working with them to develop the spares proposition for our branches, with a longer-term goal to make Eurocell the national destination store of choice for all window repairs.
After almost twelve months with Eurocell, I believe that we have an excellent opportunity to take control of our own destiny. The markets in which we operate are going to be challenging, particularly if economic uncertainty undermines confidence, but we are in a position where we can drive our strategic priorities and initiatives harder, with a view to continuing to take market share.
Our proven strategy and capabilities will enable Eurocell to deliver value to our customers and shareholders throughout 2017 and beyond.
Please note that the information on this page refers to the 2016 Annual Audited data.
line